MENGEDIT DATA AUDIO
cara mengedit lagu menggunakan nuendo
Mengedit data audio sebenarnya bukanlah pekerjaan yang rumit. Namun cenderung mudah, tetapi membutuhkan ketelatenan yang tinggi. Inilah yang membuat orang cenderung menilai bahwa pekerjaan mengedit file audio cukup rumit.
Sekarang mari kita coba untuk mengedit file-file audio yang telah kita rekam. Kita buka semua file yang telah kita rekam dengan cara sebagai berikut:
1. Kita buka halaman proyek baru pada nuendo seperti langkah-langkah yang telah dijelaskan pada bab-bab terdahulu.
2. Setelah itu kita buka menu File, pilih menu Import dan pilih Audio File….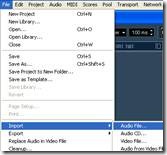 Gambar 65. Membuka file hasil recording
3. Pilihlah di folder mana kita telah menyimpan file-file recording kita.
4. Pilih file-file mana saja yang ingin kita buka, dengan mengklik kiri mouse dan menekan tombol Ctrl keyboard. Kemudian tekan open.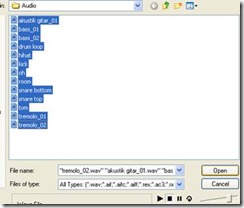 Gambar 66. cara mengedit lagu menggunakan nuendo: Memilih file-file audio
5. Setelah itu muncul opsi, centanglah opsi Copy File to Working Directory dan Convert and Copy to Project if Needed. Tekan OK.
6. Tunggulah hingga proses loading semua file selesai.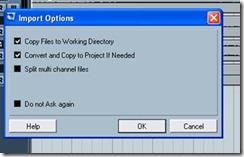 Gambar 67. Opsi saat menimport file
7. Muncul pilihan, pilihlah Different track.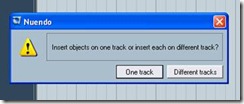 Gambar 68. Opsi pilihan
8. Maka akan muncul track-track audio yang telah pilih, dan kita tinggal memilih, track mana yang akan kita edit.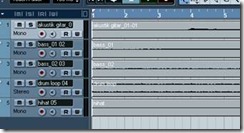 Gambar 69. Cara mengedit lagu menggunakan nuendo. Track audio yang kita pilih
DAFTAR ISI PADA SERI TUTORIAL HOME RECORDING DENGAN NUENDO / CUBASE:
2. Set up studio digital profesional
3. Set up minimal studio digital
3. FORMAT AUDIO, MIDI DAN SOFTWARE RECORDING
6. PROSES MIXING DENGAN SOFTWARE
1. Penyelarasan tingkat kekerasan suara
3. Hal hal yang perlu diperhatikan sebelum mulai mastering
4. Mulai melakukan Audio Mastering
5. Step By Step Contoh Audio Mastering Dengan Menggunakan Software
6. Penutup cara mastering menggunakan Nuendo
8. PENUTUP
Incoming search terms: