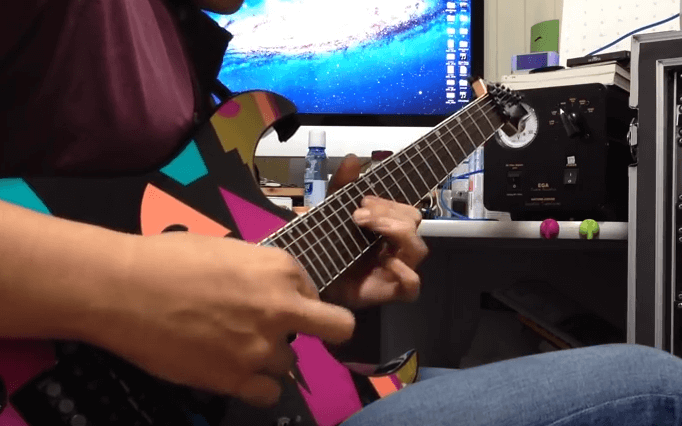 Video cara belajar melodi gitar dream theater metropolis part 1. Video dari sunghyun kim di atas merupakan video cover melodi gitar lagu metropolis part 1 dari dream theater. Lagu tersebut merupakan salah satu lagu andalan para gitaris di dunia, termasuk di Indonesia lho. Banyak sekali para gitaris Indonesia yang belajar memainkan lagu tersebut. Banyak yang beranggapan bahwa lagu tersebut sangat keren dan membutuhkan kemampuan skill melodi gitar yang tidak mudah. Tak ayal lagu tersebut sering digunakan untuk kontes festival musik dan banyak gitaris yang ingin memperebutkan gelar the best guitarist dengan mengusung lagu tersebut.
Pengen nampak keren dengan bisa memainkan gitar lagu metropolis part 1 oleh dream theater pada album images and words? Tonton dan ikuti video cover tersebut kamu bisa pause untuk melihat posisi tangannya dan kamu tirukan sedikit sedikit. Daripada kamu harus mencoba mendengarkan sendiri dan mencoba menebak bagaimana cara mainnya tentu akan sangat kesusahan apalagi kamu adalah gitaris pemula.
Nah, semoga video cover diatas bisa membantu kamu belajar melodi gitar metropolis part 1 ya. Dijamin deh dengan dapat memainkan lagu tersebut kamu bakal nampak keren dan punya martabat sebagai gitaris dan otomatis skill dan teknik main gitar kamu akan bertambah seiring permainan lagu tersebut karena di lagu tersebut terdapat banyak sekali teknik bermain gitar mulai dari bending, tapping, sweeping, arpeggio, pull off, hammer on, dan banyak lagi. Otomatis juga kamu bakal belajar chord chord yang susah dan aneh ala john petruccinya dream theater, otomatis juga akan mudah belajar speed gitar, juga cara menggunakan handle gitar.
Video cara belajar melodi gitar dream theater metropolis part 1
Untuk membantu belajar mu, sebaiknya kamu juga baca artikel: Learnin g by doing metropolis part 1 dan juga John Petrucci Rock Discipline
Oke, selamat belajar ya. Sebenarnya di youtube ada banyak sekali video cover lagu metropolis part 1, tapi kayaknya setelah survei di youtube, yang ini merupakan yang terbaik versi musisi.org.
Selamat belajar melody gitar dari video youtube. Salam. Musisi.org
Incoming search terms: