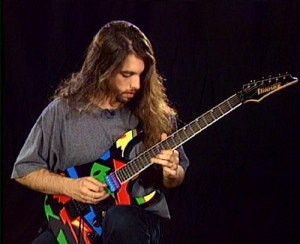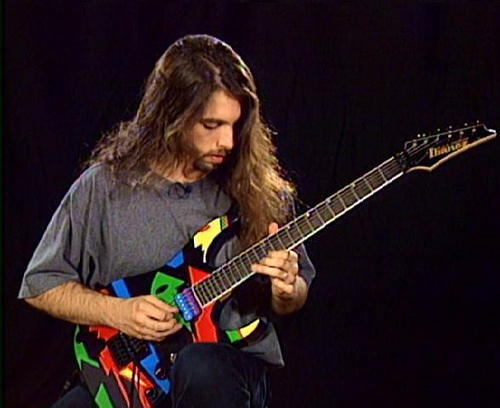 john petrucci rock discipline
Siapa yang tidak kenal John Petrucci? Pastinya kebanyakan gitaris kenal banget dengan John Petrucci gitaris Dream Theater. Kehebatan skill permainan gitarnya tidak dapat dipungkiri. Bagaimana bermain melodi, bagaimana bermain damp, bagaimana bermain legato oleh si gitaris ternama ini dikupas habis dalam video tutorialnya " Rock Discipline ". Jika anda tertarik dengan tipe permainan gitar john petrucci, maka anda wajib memiliki video tutorial tersebut. Anda akan belajar mulai dari pemanasan "warming up exercises", up down picking, pull off, hammer on, sweep picking, arpegio, dan teknik lain khas John Petrucci. Setelah mempelajari video tersebut, dijamin anda akan lebih mudah memainkan lagu lagu dream theater seperti metropolis, pull me under, under glass moon, dll yang ada pada album metropolis part 1 / images and words.
Saya sendiri sudah menonton video tersebut, mempraktekkan teknik gitar john petrucci. Banyak sekali manfaat yang saya dapatkan. Saya mulai bisa memahami bagaimana cara melakukan sweep picking dengan baik. John petrucci mengajarkan teknik sweep picking secara perlahan dan mudah dimengerti. Teknik pull of dan hammer on nya pun begitu jelas. Dengan tidak sadar saya telah menghasilkan melodi melodi yang manis dengan menerapkan latihan latihan nada melodi ala john petrucci. Anda coba dengarkan saja album images and words, di album itu lagunya sungguh manis dibalut dengan melodi yang apik.
Latihan warming up nya disampaikan secara sistematis. Ternyata bermain musik bukan hanya olah rasa, tetapi juga olah raga. Betapa tidak, john Petrucci mengajarkan teknik warming up dengan stretching tangan kanan dan kiri, kemudian melemaskan jari jari tangan. Hal tersebut adalah agar tidak cedera saat bermain gitar. Berikutnya, dengan mengikuti langkah demi langkah yang diajarkan john petrucci, anda akan diajari bagaimana agar jari jari kiri anda menjadi kuat dan bisa menjangkau fret fret yang jauh sehingga memaksimalkan permainan gitar.
Pengen bisa bermain seperti John Petrucci?
[sociallocker id="271″]Download.[/sociallocker]
Incoming search terms: